---
Jim Saxton

Jim is the co-head instructor of Coquille Martial Arts. He holds a 5th degree black belt in Jidokwan Taekwondo, and earned his third under Master David Lee of the World Tae Kwon Do Federation, and 4th degree Kukkiwon under Grandmaster Suggs. Having also attained 4th Dan from the Kukkiwan, he is able to confer Kukkiwon certification. Jim has been involved in Tae Kwon Do for over 20 years, having taught for over 11, having received his first black belt in 1999, from the East West system which teaches Tae Kwon Do mixed with jujitsu and aikido. Jim also teaches with the Tai Chi class in Coquille. He teaches kids and adult weapons, and participates in and helps teach the systema study group. He attends the annual Pacific Martial Arts Conference in Eugene, and works with Grandmaster Ron Suggs, as well as attending other seminars in order to broaden his knowledge of martial arts. It is his belief that practicing Martial Arts keeps you young.

When not at the dojo, he can be found programming(He also developed the script used for the website calender and developed the bookkeeping software used by Coquille Martial Arts), hiking, checking out new operating systems and spending time with his family, including Karen his wife of 38 years, 29 year old son, Dane, and mother in law, Peggy Cooper. He is an avid photographer and shows his work at the Coos County Fair. In addition to his black belt he has an AA degree in business.
---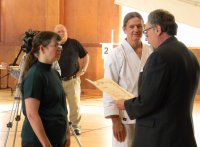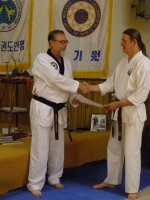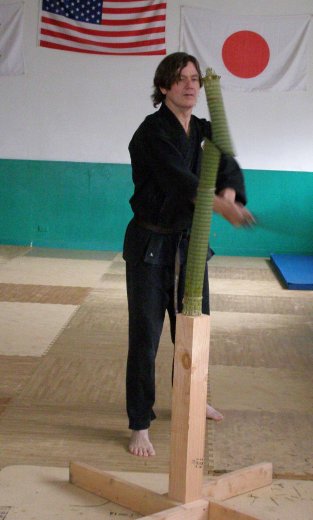 Jim saxton demonstrating a proper cut.
Return to Home
---
Last Updated Nov 16, 2017 by Karen Saxton